Glorious sunshine and arguably the finest new golf resort in the country greeted the start of the second IronMarket Charity Golf Day on August 2nd.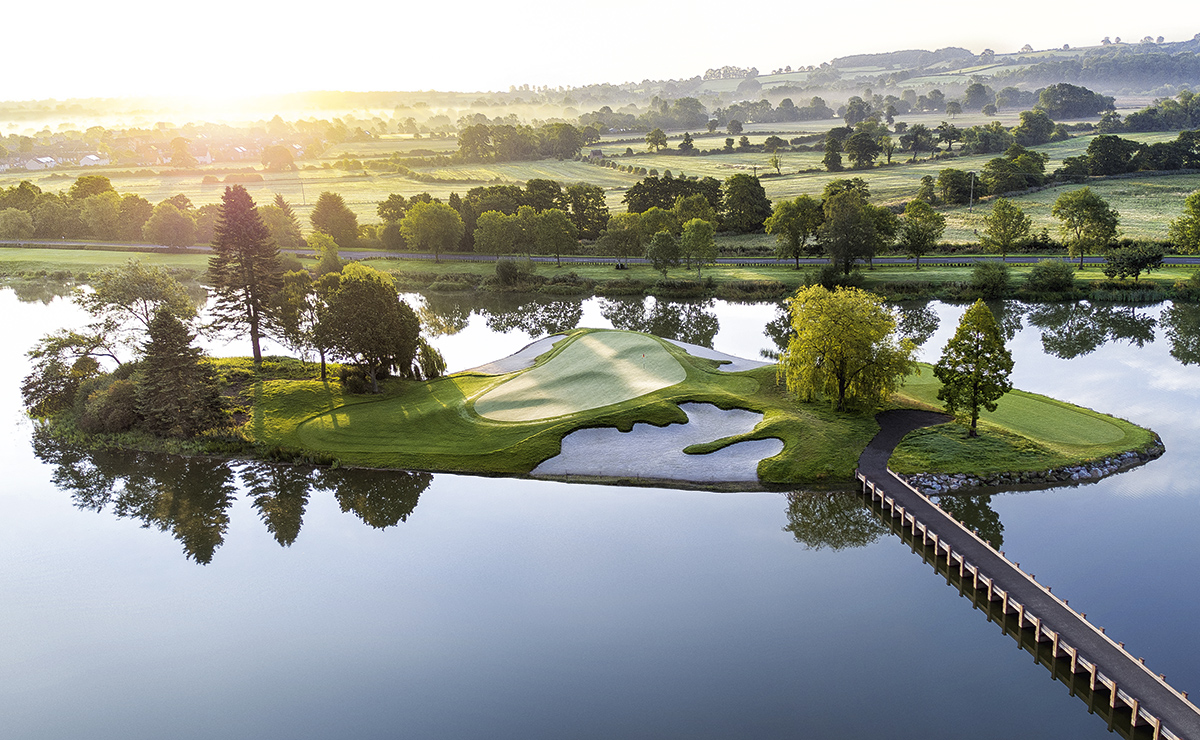 The setting was the superb JCB Golf and Country Club in Rocester, Staffordshire, where 56 golfers battled with the demands of this stunning, contemporary golf course to raise £10,820 for the University Hospital of the North Midlands, IronMarket's chosen charity, and one very, very close to the heart of IronMarket's Wes Wilkes and his sister Amy.
In October 2014, Wes and Amy lost their beloved dad Dave not long after he was diagnosed with Acute Myeloid Leukemia. Aged 60, Dave was a well-known and much-loved member of the Staffordshire business community, and so Wes had the idea of not only organising the event in his honour, but also to raise important funds for the UHNM Charity. As a representative charity for the wonderful nurses, doctors & staff working at the University Hospital in Stoke, more specifically the Cancer Centre, something that the Wilkes family holds in the highest of esteem, especially after Wes' young daughter received much-needed treatment from the hospital only a few months ago.
Wes takes this up…….
"Everyone knows what a fantastic job that the hospital & its people do, and it's a place that touches every family in the local community at some stage. Me and my family can't ever thank them enough for the care and love they showed my father, and more recently earlier this year, when Nell (my 2-year-old daughter) was very poorly, too.
We know that the money raised today will go directly to the areas that really need it, which is fundamentally important for us."
The really great thing is that, as IronMarket organise and host the event, funds that are raised on the Golf Day go straight into where they are needed and not taken by red tape or bureaucracy. And at IronMarket, we are delighted to announce that £10,820 was raised by the event.
Present on the day was Steve Rushton from the UHNM Charity who was overjoyed with the amount raised on the day….
"This is the second year that IronMarket has hosted a Golf Day raising funds for our charity, and both have been amazing. Their clients and friends have been so generous on these days, and the money raised will have a direct, positive effect on the work that we do.
The JCB Golf and Country Club is a wonderful facility, and a fitting venue to pay tribute to a wonderful man in Dave Wilkes. I'm sure Dave would be massively proud of Wes and the team……"
Players assembled in the ultra-stylish clubhouse at 10 am and were greeted with coffee, tea and bacon rolls, before heading outside to the driving range and immaculate putting green to get ready for the testing 18 holes ahead……
At 11.30am, James Howard, the Golf Sales and Member Liaison Manager at the JCB Golf and Country Club started off proceedings by welcoming players and guests to the course, before handing over to Wes to thank everyone for attending and outlining the day ahead. Then, everyone was off in one of the funky JCB golf buggies to their respective starting holes, with a klaxon at midday signalling the start of what was to be a very competitive competition.
On the day, teams of 4 battled it out to become the winning team on the day. We are indebted to the following companies and individuals for their superb support of the Golf Day and which made the day as a whole so memorable:
Teams from: DPC; Myers & Co; Environmental Essentials; Appleby Mall; Kelly Molyneux Accountants; Lodge Tyres; Patera Engineering; Tungate; JSW Insurance; I Kelsall; Sovereign Planned Services; and of course IronMarket.
Golfers: Steve Owen; David Borasinski; Derek Williamson; Kyle Grocott; Dermot Callinan; Steve Myers; Gordon Yule; Chris Wilkinson; Mark Pedley; Andy Brown; Danny Kirbyshire; James Riley; Lekh Mall; Michael Griffin; Rav Cheema; Paul Hampton; Mark Hemmings; James Wilson; Michael Gosnay; Clint Hollies; Martyn Lodge; Andrew Christmas; John Grint; Ian Hancock; Shaun Lees; Kev Burton; Nathan Beard; Terry O'Hanlon; Tony Filbin; Joseph Filbin; Simon Collins; Wes Wilkes; Adrian Heath; Greg Heath; Kevin Pazsek; John Whalley; Stephen Burns; Mick Nuttall; Peter McNulty; Dave Herd; Ian Kelsall; Richard Anderson; Tim Sherwin; Dan Lowndes; John Whalley; Simon Williams; John Parkinson; Mike Baguley; Andy Carnohan; Martin Hayward; Vaughan Harris; Andy Whitmore; Neil Pike; Mike Jones; Ash Desai; Matt Pointon.
The weather matched the surroundings, with the course bathed in glorious early-August sunshine, with the golf course's Halfway House refreshment stop constantly busy with players and spectators taking the chance to get a drink and bite to eat during their demanding rounds.
From 5pm onwards, teams started returning back into the clubhouse after finishing their round and were met with tables full of sumptuous food and their thirst quenched thanks to the highly talented and attentive JCB staff. Then it was onto the closing speeches, once again from James and Wes, and then onto the awards for the day (and the raffle).
It was obvious that it was going to be very tight between four or five teams, and it eventually was decided with an IronMarket idea of double points being gained on the picturesque but troublesome 17th. Ian Kelsall's team of himself, Richard Anderson, Tim Sherwin and Dan Lowndes were the deserved Team Competition winners, closely followed by the Lodge Tyres Team of Martyn Lodge, Andrew Christmas, John Grint, and Ian Hancock who came second.
As the sun set in the Staffordshire sky and the shadows lengthened across this beautiful golf course, it was a fitting end to a memorable day. One that was summed up by Wes….
"It's been a great day", commented Wes, "and the staff at the JCB Golf and Country Club have been amazing. They are so friendly and personable; it really has made a special day even more special.
It's all about raising money and the profile of the UHNM Charity, so that they can continue to help people in the same unfortunate position that my father was. We thank everyone for their support and look forward to hosting our third Charity Golf Day next summer!"
Copy: Anthony Bunn
Photography: Simon Hargreaves